SharePoint

and

OneDrive

are

two

Microsoft 365 applications

that

store files. The question

you

are

probably

asking

yourself

is

: "

Why

do

we

need

two

applications to store

our

documents in Microsoft 365?"

 




This

is

precisely

what

we

will

see

together

through

this

article.

 
.
Their

common

points:

 

 
Both OneDrive and SharePoint have the same general appearance and common features. They both allow you to edit documents directly online, alone or in co-editing. Both have version history, but also offline synchronization, external sharing, mobile access and you can also set document access permissions. 
Both OneDrive and SharePoint are available through Microsoft Teams. You will find OneDrive in your private conversations, while SharePoint will be accessible in the library of your team chat. 
When

to use OneDrive

 

 
If these two applications have a lot in common, they do not have the same usefulness. Here are the scenarios where it is good to favor OneDrive. 
OneDrive is a personal storage, each user has at least 1 TB of space. It is the ideal solution for two types of documents: 
Documents that you want to keep for personal use in the sense that you do not want to share them.

 
Documents you want to edit privately, such as a draft, before they're ready to share

 
As we mentioned above, document sharing is possible on OneDrive, but this is a feature that we do not recommend! In addition to being complex in terms of access authorization, sharing documents or folders can be confusing when a group of people each share their version which comes from their own OneDrive and everyone works on their version. 
In addition, when files are stored on a person's OneDrive, you run the risk of no longer having access to them and losing the file if the latter leaves the company, for example. 
When

to use SharePoint
SharePoint is a shared storage space. This tool will be ideal for collaboration and document sharing. SharePoint allows you to define access parameters according to teams, or users. Thus some people could have access to files as an editor, while others can only consult them or will not have access to them at all. 
Depending on the size of the organization and its complexity, it is not uncommon to have two types of SharePoint space: Team SharePoint and Public SharePoint. 
 
Team SharePoint is intended to be used for collaboration, you can work as a team on a single file in order to centralize version histories and have the file easily accessible in its latest version! 
The public SharePoint meanwhile will be more useful for publishing and sharing. Generally it acts as a communication site or intranet. 
You and your team will share documents that are useful for consultation but cannot be modified or deleted by any user. (Examples: document template, rules, graphic charter, etc.) 
Did you know that it is possible to add a team or public SharePoint to a Teams team? The goal is to make collaboration as smooth as possible between the different Microsoft applications and to bring everything together in the place you use most frequently.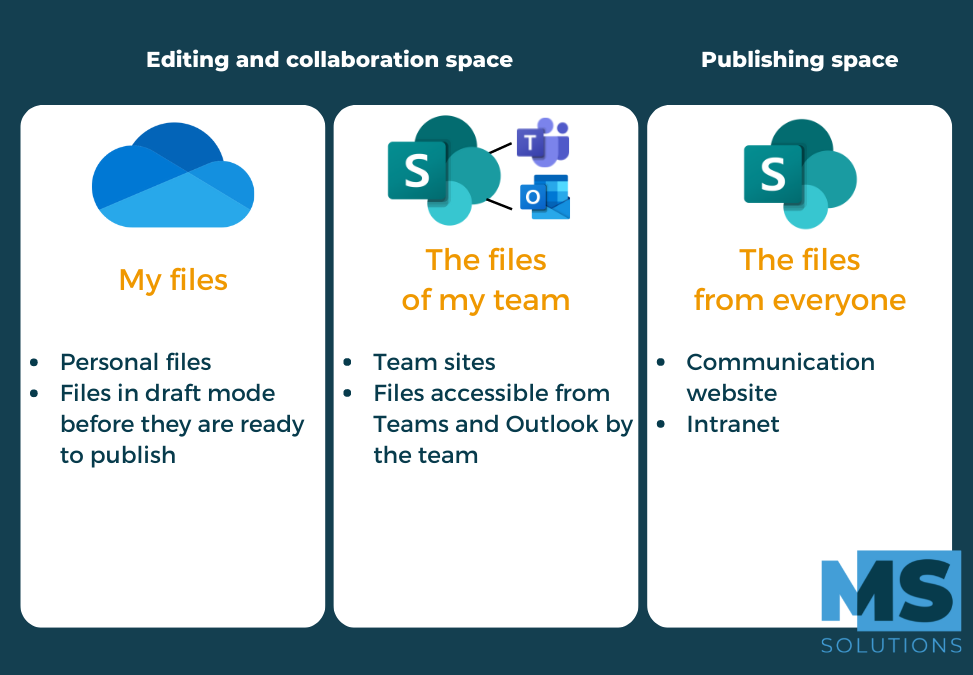 In short  
Although these two applications have commonalities in that they are both interconnected Microsoft applications, they have a very different usefulness depending on the context of use. 
We will remember that OneDrive has a personal utility, while your team SharePoint allows collaboration. Finally, public SharePoint will be favored for consultation files that concern the group. 
You want to go further with these tools, know that we offer training for the Microsoft 365 suite. Do not hesitate to contact our team for more information.