Phishing Simulation by MS Solutions
82% of security breaches are due to human error. Reduce your risk of cyberattacks by raising awareness among your people. Vigilance, our continuous phishing awareness and simulation platform helps your team maximize your security.
Contact us
Increase the vigilance of your employees for less than the price of a coffee ☕, per month, per employee!
Get real results with Vigilance by MS Solutions: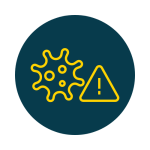 Increase Report Rate by 99%
Decrease Ignore Rate by 11%
Faced to increasingly sophisticated phishing techniques, we have a solution that is just as sophisticated. This is why our platform includes an awareness component and a simulation component which are broken down into 5 main stages.

 

 
Thanks to a dashboard, each member of your team can follow their progress in the face of risks.
Encourage good safety behavior with personal risk scoring. This data allows team members to understand where they are in their cybersecurity journey. They can positively impact their personal risk score by reporting phishing, taking courses, and engaging on the platform.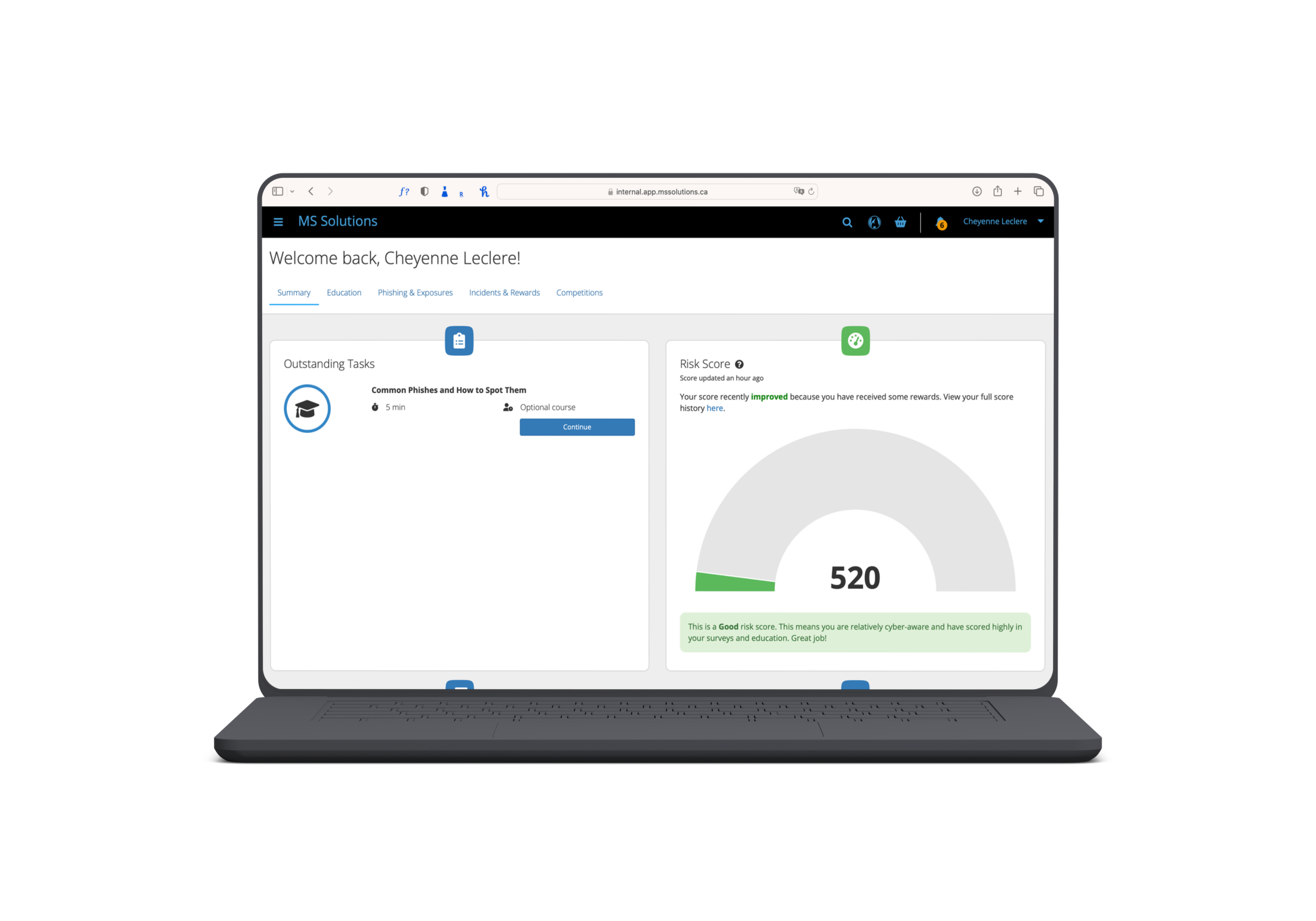 Go beyond general security awareness with the personal dashboard. This tool features everything team members need to stay engaged and play an active role in protecting their organization from cyber threats with access to courses, exhibits, surveys, rewards and more. one place.
Follow the performance of your teams
To follow up, or as part of a compliance exercise, closely monitor your team's results with a dashboard and real-time reports. 
With the Admin Dashboard, measure program effectiveness with real-time insight into click-through rate, report rate, and ignore rate. 
Train your employees in cybersecurity and Microsoft 365
In order to combine theory with practice, your Vigilance phishing simulation platform offers you a large bank of courses on cybersecurity.
Opt for the Vigilance+ version to have access to e-learning training on Microsoft 365 tools.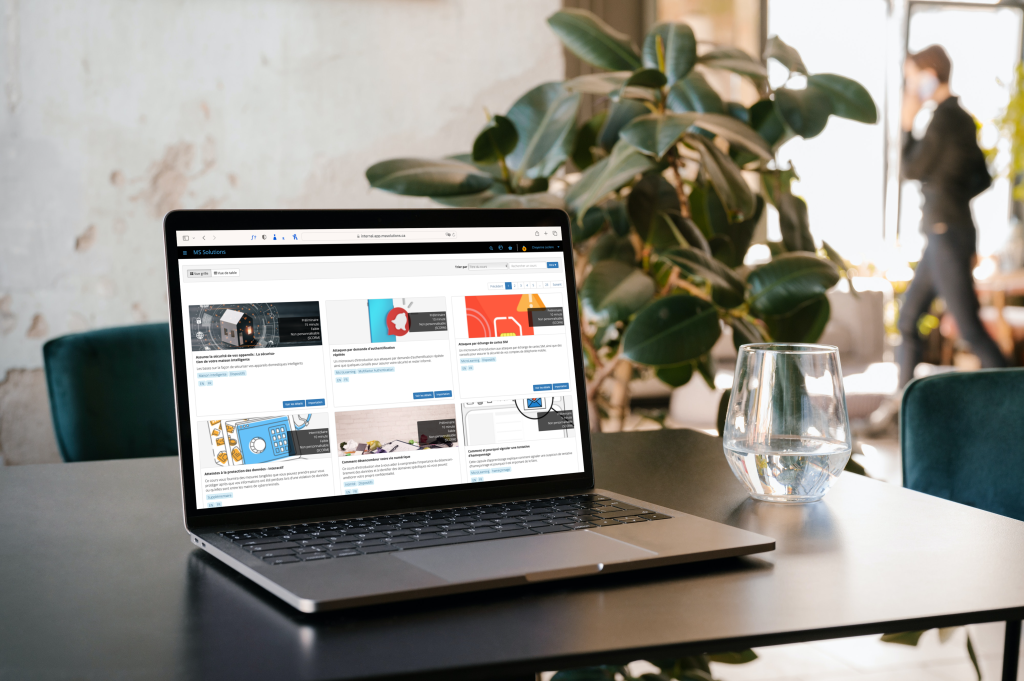 Vigilance: A large bank of courses on cybersecurity
Our phishing simulation platform includes a large bank of courses on cybersecurity. You might even find some that are directly related to your industry sector!
Vigilance +: Go further, with training on Microsoft 365
Opt for the Vigilance+ version to offer your employees an additional bank of training on Microsoft 365 tools in e-learning format.
*Training exists only in French langage.
Training included in Vigilance + :
Teams
Téléphonie IP de Microsoft Teams
SharePoint
SharePoint intranet
OneDrive
Lists 
Planner
OneNote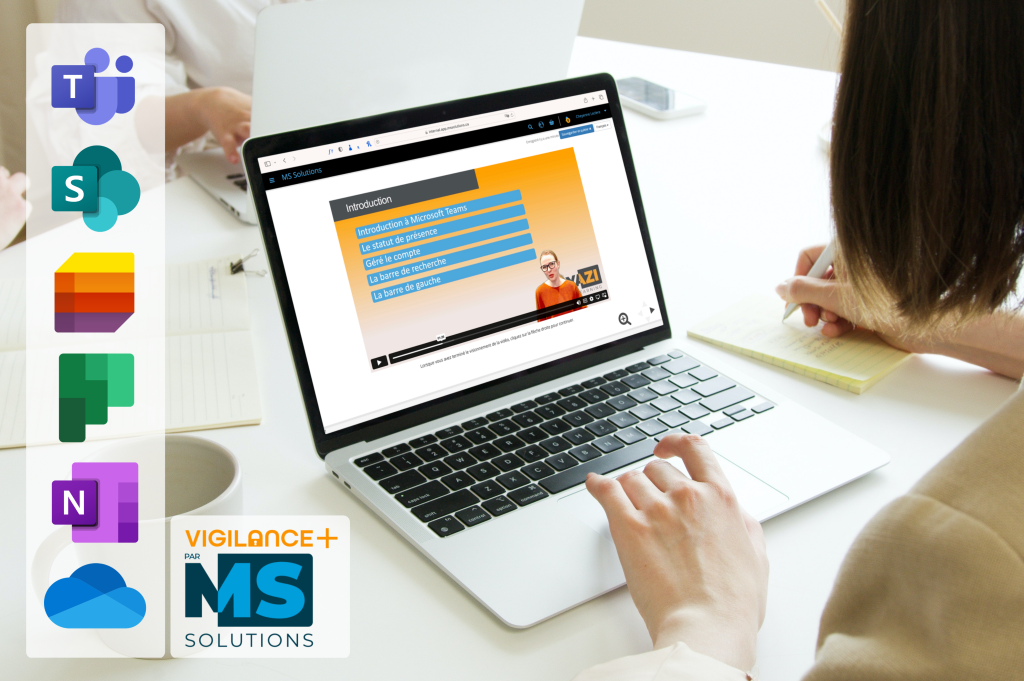 A great program with a clear platform for following training and raising awareness among our teams of the risks of phishing!
Valérie M., Mallette
Very easy to use, the courses and the capsules are relatively short, people do not feel like they are wasting their time and there is a small healthy competitive side that sets in in order to have the best security rating .
François C., Metal 7
Vigilance helps us make our team aware of the risks of phishing with the various training courses available and with its phishing campaigns.
Steeve L., Ordre des architectes du Québec
This forces employees to take the time to learn about the different ways to protect themselves and the business at the same time. This is needed today.
Philippe C., RocklandMD
Find the questions most frequently asked by our visitors.
A company firmly established in Quebec
MS Solutions relies on a team of over 75 IT professionals. The company is experiencing sustained growth and is considered a leading player in the IT industry in Quebec. We are proud to be in business for over 30 years!
Exceptional expertise in cybersecurity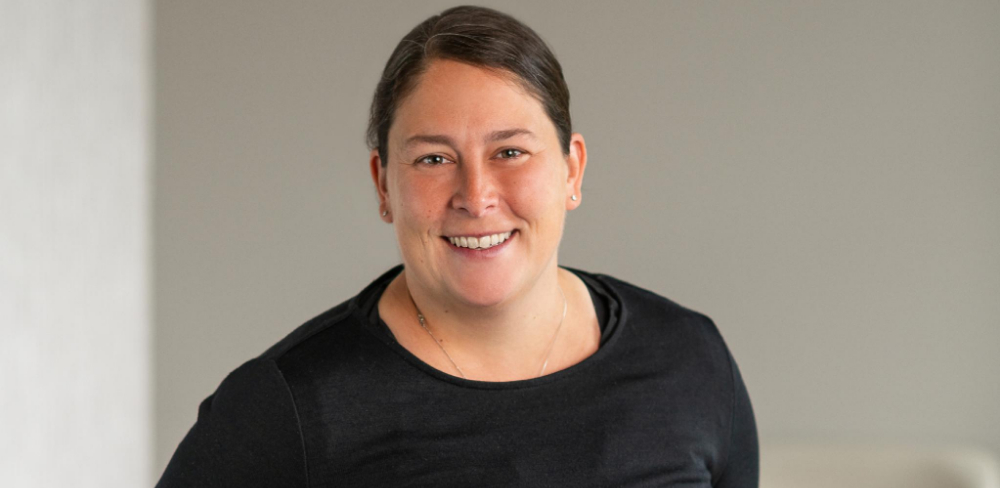 Our cybersecurity team can advise you on the type of phishing simulation to be carried out and the training to be given to your employees. Rest assured that our specialists will offer you a service adapted to the specific needs of your organization.
A specialized expertise in phishing awareness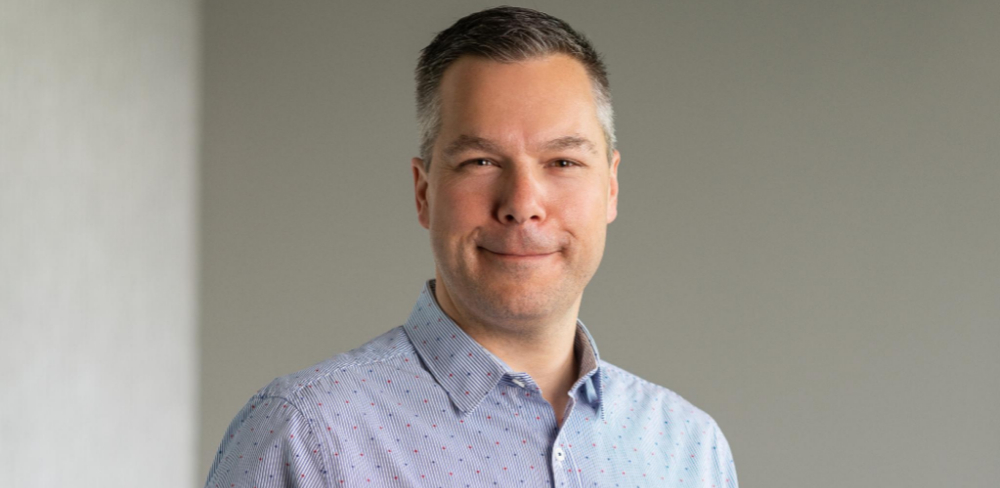 These projects are overseen by Bernard Després, Director of the security and audit practice, certified CISA (Certified Information Systems Auditor) and CISSP (Certified Information Systems Security Professional) with more than 20 years of experience in IT consulting.
Considering that 82% of security breaches in an organization are the result of human error (Verizon, 2023), and that 1 in 5 email attacks is successful (Tessian, 2022), it's safe…