A content-rich intranet is an internal company website that is designed to provide a wealth of useful information and resources to employees. It can include company news and announcements, guides and how-to's, calendars and events, collaboration and communication tools, and more. By using a content management tool like SharePoint, it is possible to easily create and manage a content-rich intranet for a business.
Let's see together what are the key steps to have a content-rich intranet.
1. Define the objectives of your intranet
Start by defining the objectives of your intranet:
What do you hope to accomplish by using SharePoint?
What are your company's communication and collaboration needs?
It's important to know what you want to accomplish with your intranet so you can target the features and resources that will be most useful to you. For example, if your goal is to communicate better with employees, you could set up a news distribution system or an events calendar. If your goal is to improve collaboration between employees, you could use document sharing and project management tools. 
2. Involve employees in the process of creating the intranet
Ask for their feedback on which features and resources would be most useful to them and consider their suggestions.
Employees are the users of your intranet, so it's important to involve them in the creation process. Ask their opinion on what they would like to see on the intranet and consider their suggestions. The fact that they can have an impact on the intranet will encourage them to use it more. A true virtuous circle to ensure the success of your SharePoint intranet.
3.
Organize your intranet content
Use clear titles and keywords to make it easy for employees to find what they're looking for.
A well-organized intranet is essential to allow employees to easily find what they are looking for. Use clear titles and keywords to label content and implement an intuitive navigation structure.
MS Solutions advice: The golden rule is not to use more than 5 sub-folders so as not to lose your people in an overly complex tree structure.
4. Identify your key collaborators
Depending on the targeted content, it is crucial to identify your collaborators, those who will be able to manage these pages, update them and enrich them. Have you identified that you want to find your organization's logos, wallpapers, presentation templates and other visual identity tools on your Intranet? So someone from the marketing team should be identified and trained as a collaborator.
In a large company, the intranet collaborators will certainly be multiple: HR manager, communications manager, marketing manager, finance manager, continuous improvement manager, etc. It is also suggested to define editorial lines for your intranet and to create an editorial committee that will come together to share good practices and challenges. Finally, it is also necessary to provide for the succession of these employees, in the event of absence or departure.
5. Train them!
It is crucial that these valuable collaborators benefit from two invaluable tools for the success of their project: time and training. By identifying our collaborators, it is necessary to ensure that they were reserved time in their workload to create the content and then maintain it. It is a key success factor. The quality of the content depends on the time dedicated by the collaborators. They also need to be properly trained as a SharePoint designer and administrator to use and edit Intranet pages so that they look good and use the right format for pleasant navigation, and more!
6. Keep your intranet up to date
To keep your intranet useful and relevant, it's important to update it regularly with the latest information. This can be done by regularly posting new announcements and updating existing resources. Do not hesitate to go around regularly to remove resources that would be obsolete so as not to mislead users. 
7.
Track your intranet usage using analytics tools
Thanks to the analysis tools, several data are available and allow you to follow the use of your intranet. For example, you can see how long employees spend on each intranet page, which pages are most popular, and how often each page is viewed. This will give you an idea of what interests employees and what could be improved.
Using this data, you can improve the intranet by highlighting the most popular content, removing content that is not used, and adding new features that meet employee needs. This will ensure that your intranet remains useful and relevant to employees and is used effectively.
7.

The MS Solutions SharePoint intranet
What could be better than a concrete example to show you the range of possibilities offered by SharePoint for the design of your future intranet. To do this, we are proud to open the doors of the MS Solutions SharePoint intranet to you.
We thought of this intranet to be a real meeting point and resource for our employees. Our employees find there daily information, photos and presentations of new arrivals, public holidays, etc. All kinds of useful information for the proper functioning of the company. We also share our surveys and important documents to send to everyone.
Our intranet is divided into several spaces so that everyone can find the information they are looking for intuitively.
Espace MS

: general life of the company (presentation of new arrivals, news, public holidays, current survey, etc.)

MS Employés

: what is related to human resources (organization charts, collective insurance, time sheets, contacts, employee guide, etc.)

MS Marketing

: centralizes communication media and graphic design tools (sales media, webinars, logos, etc.)

MS Knowledge

: our knowledge base with all useful tutorials and technical resources

 

MS Formation

: Training to use our tools…

 
Each space is supplied by an assigned manager so that the supports are kept up to date.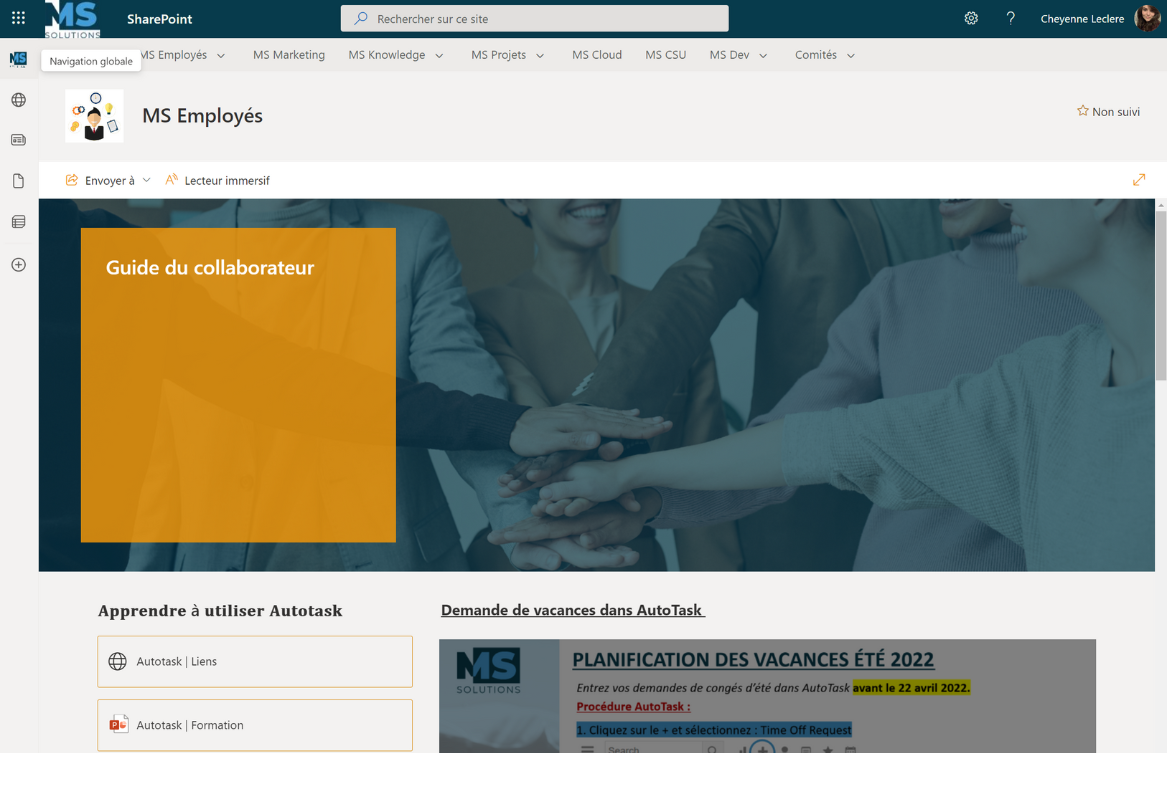 In short
To create a content-rich intranet with SharePoint, it's important to define intranet goals and involve employees in the creation process. You should also pay attention to content organization and use collaboration tools to encourage employee participation. By implementing versioning and access control systems, you can ensure that only authorized content is published on the intranet. Finally, don't forget to update the intranet regularly and use analytics tools to get data on what works and what doesn't. By following these tips, you should be able to create a content-rich and effective intranet with SharePoint.
From training to support in the creation of your SharePoint intranet, MS Solutions can support you in different ways in your journey. Contact our experts to discuss your needs and concerns.